The shift to working from home is a challenge, even for companies accustomed to remote work. Wendy Scott has some advice.
From Technical.ly, March 27, 2020
by Holly Quinn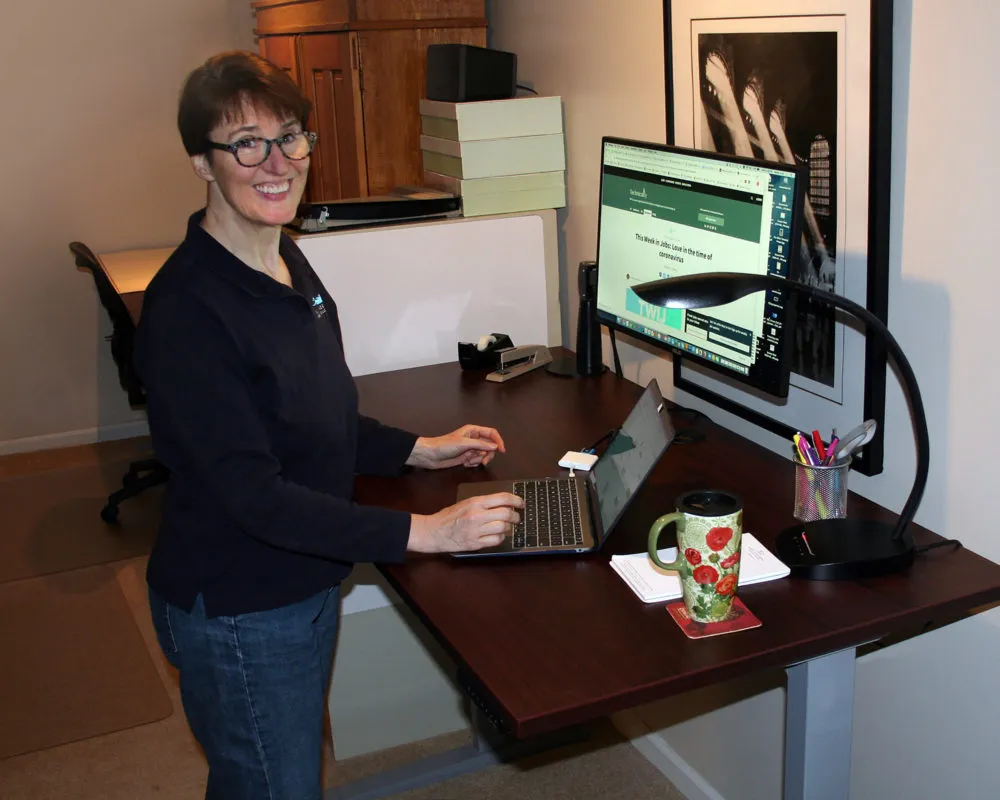 While many industries are suffering in a big way right now, digital marketers are working overtime helping clients pivot their messaging and delivery for the age of COVID-19 and social distancing — and they're doing it remotely, as entire teams now work from home.
Wilmington strategic marketing firm Blue Blaze Associates is one of these companies: The all-women leadership team has been working weekends on top of their regular hours to help clients figure out new marketing strategies.
While Blue Blaze is not new to remote working, suddenly having a team that is 100% remote has been a change.
"We think of remote work as one the key ingredients for us being able to build a high-performance and diverse  company and also to be able to deliver services to a broad geographic area," said Wendy Scott, principal and CSO of Blue Blaze. "What's changed in recent weeks is that our core team always got together at least one day a week to have quality face time, so now communication has to be more intentional and thoughtful."
Especially now, with newly remote teams trying to adapt to a different way of working, company leadership has the responsibility to make things run smoothly. Here are some of Scott's tips on how to do that:
Check tech skills. "Ensure that everybody has the technology and skills to be able to collaborate in real time." Your employees probably have the physical tech needed for things like using Google Docs for real-time collaboration, but are you sure they know how to use them?
Make space for all voices. "Remembering to pause during a conference call or video call to proactively ask people dialing in if they have something to add." With in-person meetings, you get physical reactions and cues from the team that tell you when someone has something to say — something that can be lost in a conference call or Zoom meeting.
Review your messages before hitting send. "That's something we should be doing all the time, but even more now, make sure you get the message and tone right."
On the flip side: "If something in an email or text from somebody else sounds off, give the person the benefit of the doubt. Ask for clarification before you react emotionally or assume something." Remember, a lot of the people you're working with are inundated with emails and working under stress.
Don't forget about phone calls. "To be honest, old-fashioned phone calls are sometimes the fastest way to get something done. Text is great, but if you're trying to explain something, it's just easier to pick up a phone have a direct conversation."
Evaluate new tools. The virtual meeting platform you've used for years might not have the features of a newer platform like the ever-popular Zoom. And that might be OK — compare platforms before making a switch. "We have to figure out what works best on an ongoing basis."
How has your business or tech job been impacted by COVID-19? Let us know at [email protected].