NEWARK, Del. (Dec. 23, 2021) – Blue Blaze Associates, LLC, a women-owned, full-service marketing and design agency, received two 2021 Hermes Creative Awards. The Delaware-based agency won a Platinum and Gold Award, competing against more than 6,500 entries submitted for the prestigious international competition. Each year, judges evaluate the creative industry's best entries for publications, branding collateral, websites, videos, and advertising, marketing and communication programs.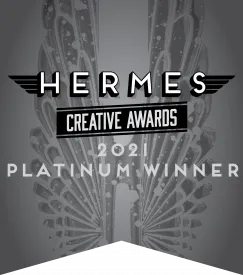 Blue Blaze's Platinum Award, the highest Hermes honor, recognizes its multi-layered marketing services for Versogen, a green energy startup with a bold mission to substantially reduce industrial carbon emissions by cost-effectively producing hydrogen from renewable sources. Work included rebranding with a new company name, designing a distinctive visual identity system, creating a new website with engaging content that included custom illustrations to demonstrate key technical processes, and building and implementing a strategic marketing and communications plan.
The Gold Award was presented for Blue Blaze's rebranding work for BrightBloom Centers, a leading Applied Behavior Analysis (ABA) therapy provider for children with autism and special needs serving Delaware, New Jersey and the surrounding region. Blue Blaze created a vibrant new brand which included a successful renaming process to BrightBloom Centers, development of their core messaging, website redesign, and creating an entirely new series of marketing collateral materials.
"We are extremely honored to receive the prestigious Hermes recognitions and very proud of the work we have done and continue to do for these exceptional businesses," said Blue Blaze Associates CEO Sandy Taccone. "It is our mission to go above and beyond the expectations of our clients and deliver results that will take them to the next level. These awards demonstrate we are achieving that mission."
"Blue Blaze completely transformed our business by rebranding our name, our look, and our accessibility to past, current, future families," said Diliana Henry, BrightBloom Centers Founder. "This transformation has opened the doors to expand our geographic footprint and meet the growing needs in the region."
The Hermes Creative Awards are one of the oldest and largest creative competitions in the world. Winners range in size from individuals to media conglomerates and fortune 500 companies. The competition is administered and judged by the Association of Marketing and Communication Professionals.
---
Founded in 2001, Blue Blaze Associates, LLC is a certified women-owned and LGBTQ-owned marketing and design agency that offers a full suite of award-winning creative services. Blue Blaze Associates collaborates with clients to build memorable brands and develop strategic marketing solutions with quantifiable results. The tightly-woven interdisciplinary team combines creativity, digital transformation, and technical expertise to deliver superior quality solutions for clients. In 2020, Blue Blaze was named to the Philadelphia100® list of the region's fastest-growing, privately-held companies and has received many prestigious industry awards.