Technology, styles, and brands all change and evolve over time and it is important that a company's website design keeps up with those changes. However, it can be overwhelming to determine when is the right time for a website refresh versus a redesign. Knowing the difference can help a company get the services they need at the right time.
Defining a Website Refresh
A website refresh leaves the core of the website intact while updating the look of the site. This would be comparable to painting the walls of a house or getting new furniture. The house itself- the walls and rooms- stays intact, but by doing something as simple as painting a maroon wall yellow, it can completely brighten up the house's interior.
When to Website Refresh
Website refreshing is convenient because it is relatively easy to implement quickly and inexpensively. It is important to refresh your website regularly. A good rule of thumb is to update your website about half-way between redesigns or every one to two years. Following this guideline helps keep your designs fresh and your brand consistent. It is important to keep in mind that if you need to do a website redesign, a website refresh will not suffice and it will end up costing you more money in the long-run. Essentially, even if you don't have the time, money, or need for a full redesign, you should regularly do website refreshes.
For example, Blue Blaze worked with Delaware Museum of Natural History to create a website refresh. The general format of the website is still intact, but the fonts and colors are made more modern and exciting from the before photo (left) and the after photo (right). The refresh added the dark blue bar across the top with a search function, social media links, address and phone number. The content on the homepage was reorganized to prioritize information and interior pages were also redesigned to make them easier to read.
Before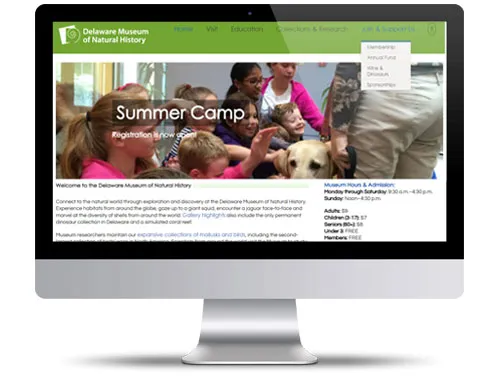 After
Defining Website Redesign
Website redesign completely changes the way the website functions. This would impact how easy it is to add various content and images. For example, a redesign of a house would be completely tearing down the house and starting from the ground up.
When to Website Redesign
If your current site doesn't have a content management system or the CMS is hard to use, it may be time for a redesign. Problems in functionality, such as high bounce or abandon rate, could be a clue that it is time for an overhaul of the site. This can be pricey, but if you keep putting it off it could end up being even pricer. It is also beneficial to do a redesign to make your site responsive to all browsers and devices. Addressing all the problems that a website redesign fixes will also help your SEO, which is an added benefit. A website redesign should be done, or at the very minimum considered, every three years to make sure your website has the highest possible functionality.
Blue Blaze also worked with Delaware Nursery & Landscape Association (DNLA) to do a complete redesign of their website. The new design is adaptable to being viewed on different devices and leverages images of nurseries and and gardens as strong visual elements  (right) rather than small background images, (left). The logo is the same, but the images, font, content, menu, and essentially all the design aspects are different.
Along with an overhaul of the visual design, the site has additional functionality for members and the public. Members can join and renew through the website, pay online, and create and maintain a profile page for their business. The member directory is available to the public and is searchable by company, location, or services.
Before
After
Website redesigns and refreshes are important for companies to consider regularly to stay up-to-date and provide clients with an easy and accessible web page to visit. To learn more about how Blue Blaze can help you with a web redesign or a web refresh, click here.