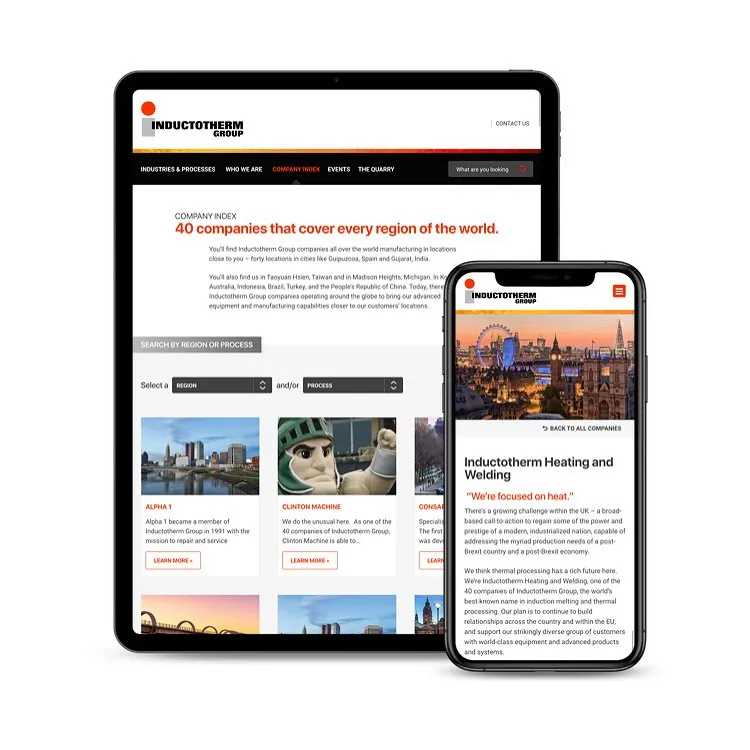 Inductotherm Group is a growing multinational organization with production plants, manufacturing facilities, and offices in every region of the world. To support their exponential growth and bring digital transformation and brand value to the forefront, Inductotherm Group engaged Blue Blaze to conduct a content audit and complete redesign of the company's corporate website, and the multisite network of all 34 sub-companies, with translation support for up to 13 languages.
Blue Blaze's award-winning design featured a central product database for 275 products organized into 50 individual product lines under 10 international brands to maintain consistent product information sharing and brand management across the enterprise. A new online resource library, "The Quarry," was developed to house Inductotherm Group's vast industry expertise with easy access for all sub-companies.
Flexibility, brand consistency, and seamless access to product information and knowledge sharing were essential requirements that have made this website redesign a huge success for Inductotherm Group and its international sales teams as they work locally to connect buyers and sellers regionally and internationally.